2016 Boeing Gold Performance Excellence Award to AEM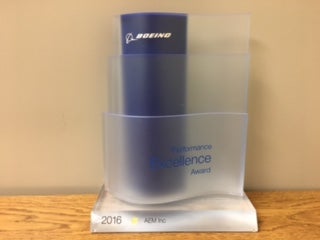 Boeing annually recognizes suppliers through performance excellence awards for achieving silver or gold composite levels by obtaining superior quality and delivery performance; these metrics are accumulated over a twelve month period.
SAN DIEGO, Calif.— May 15, 2017—AEM, Inc. announces that it is a recipient of the 2016 Boeing Gold Performance Excellence Award. AEM maintained a Gold composite performance rating for quality and delivery for the twelve month period from October 1, 2015 to September 20, 2016.
"We are very pleased to be recognized by the Boeing team and to win this prestigious award again in 2016," said AEM's General Manager, Jeff Montgomery. "AEM strives to supply the highest quality components for Boeing's programs while meeting Boeing's expectations for service and delivery. Our partnership with Boeing is highly important, and we look forward to continued mutual success."
AEM's MIL-STD-790 and AS9100 certified facilities have and will continue to provide Boeing with unique component solutions to meet mission critical program needs.
About AEM, Inc.
AEM, Inc. is a high reliability component solutions provider that continues to set the standard for quality, value and performance. AEM provides solutions and services to aerospace, defense and other "Hi-Rel" industries that require the highest quality level for circuit protection, EMI signal filtering, and Sn/Pb conversion applications as well as niche passive and active electronic components.
Company Contact:
Jeff Montgomery, General Manager
AEM, Inc.
858.481.0201 x 1333
jeffmont@aem-usa.com